Выставка работ Светланы Пановой PURE JOY
---
Новая выставка Светланы в Casula Powerhouse Arts Centre, называется PURE JOY, с 21 сентября to 27 октября 2019. Официальное открытие 21 сентября с 2 до 4 часов.
1 Powerhouse Rd Casula,NSW
100 метров от станции Casula
понедельник - пятница с 9 до 5
суббота- воскресенье с 9 до 4
Вход бесплатный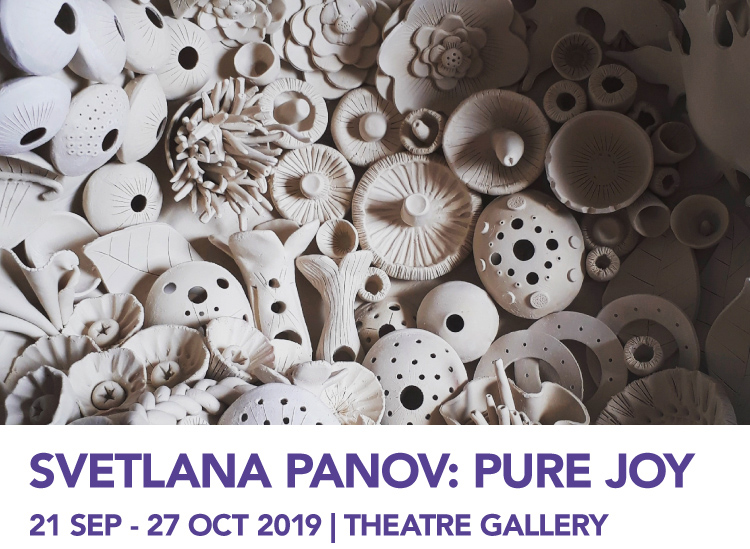 Local artist Svetlana Panov discovered a talent and passion for ceramics at the Casula Powerhouse Ceramics Studio, less than two years ago. Her intricate creations are inspired by the textures of nature, from aquatic life and landscapes, to plants found in the local area. After finding a cluster of golden fungi growing in the Casula Parklands, Svetlana began making mushroom-inspired forms that feature in her recent works. Her works begin with no final picture in mind, instead Svetlana is led by the material of clay, her emotions and a devotion to making art. With painstaking attention to detail, each piece can take up to fifty hours to produce.
Six recent works from the talented emerging ceramicist will be on shown in the Theatre Gallery on level 1 and her embroidery work also features the group exhibition THE SONG TREE in the Marsden Gallery.
When asked about her art, Svetlana enthusiastically replied:
"Hi, my name is Svetlana Panov and I am an artist. I'm so passionate about being creative, that it is a daily practice for me. My artistic journey began when I attended Julian Ashton art school. After getting married and having a family, I moved overseas and continued to study: sculpture to watercolour, oil painting to drawing. The combination of new skills and new environments gave me the confidence to teach my own art classes for the next five years. At this point in my career I was still approaching my art with a strong sense of realism. It wasn't until I came back to Australia and experienced the death of two family members that my creative approach shifted, giving way to a new abstract expression. In 2017 I began attending ceramic classes and found that moulding the clay into art works gave me a new creative voice. My style is constantly evolving and I would like to invite you to follow me on my creative journey!"
Further information about artist Svetlana Panov can be located at:
Instagram- @svetlanapanovartist
Facebook- svetlanapanovartist
Our readers were introduced to a rising local artist from the Russian Australian community in May 2014. Her name is Svetlana Panov. Since her art display at St Sergius Nursing Home, Cabramatta in 2014, Svetlana's art has blossomed with solo exhibitions at:
Marconi Club 2017 – EXPRESSIONS OF LOVE THROUGH COLOUR, Merrylands RSL 2018 = GET INSPIRED,
as well as winning several awards at art exhibitions over these years.
advertising