Благотворительный концерт с русскими артистами
---
Fundraising Concert for Alla Rozumyak and her family
Воскресенье, 11 августа 2019 г. с 16:00
Willoughby Uniting Church
10 Clanwilliam Street, Willoughby, New South Wales 2068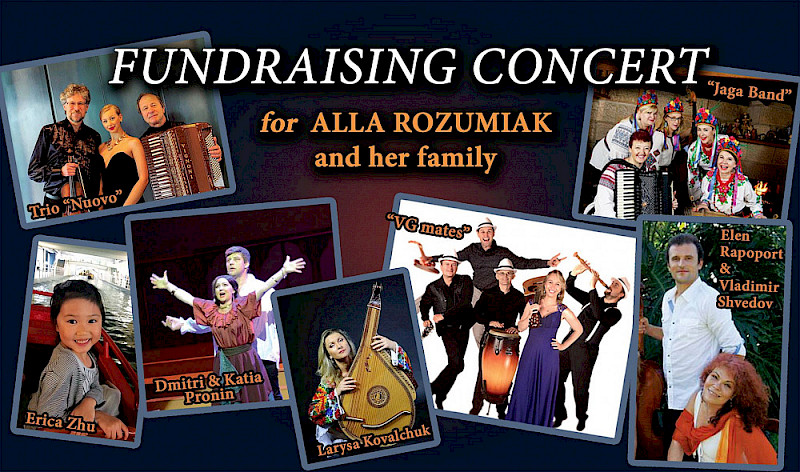 Dear friends! We have come together as artists of different back grounds and styles to present you a beautiful and versatile music program to support Alla Rozumiak and her family.
Featuring in the concert:
Elen Rapoport - piano (Debussy, Liszt, Chopin)
Dmitri and Katia Pronin - arias from famous operas
Larysa Kovalchuk - bandura/vocal
Vladimir Shvedov-cello/vocal (Franck cello sonata)
"VG mates" - original modern Folk-rock band lead by Vladimir Gizatulin
Trio "Nuevo"- Leo Novikov - violin, Gennady Savkov-accordion,
Victoria Stepanenko - piano
"Jaga Band' Mar'yana Sywak - violin, Tatjana Marx - accordion, Lucy Voronov - cymbalom
and our special guest - the gifted 5 year old pianist Erica Zhu.
Ticket price - $35, available at the door or by booking (link coming soon)
Alla is 54 years old, a professional musician; a violinist/performer and tutor.
In 2001, she had her first battle with breast cancer. Two major surgeries, followed by full chemotherapy and radio treatment and several years of hormone treatment.
Ten months later her cancer returned.
It was a horrible experience, an eight hour surgery followed by a very painful recovery. This time it took her longer to recover, but she still managed to bounce back to full capacity once again.
Sadly, eleven years later, her cancer has now returned, for the third time. This time it is really testing her strength. She is determined to beat it yet again. But this time it is very different.
"I am no longer as young and strong as I used to be. Conventional treatments have left me scarred and I believe I had to undergo a lot of unnecessary suffering. My current personal circumstances are very different too."
Her husband Staszek, had his first heart attack five years ago after he lost his job. He never fully recovered while her eleven year old son Adrian has many needs too, as he suffers from very severe Tourettes Syndrome. Her husband and All herself can no longer provide the care and attention he requires.
"My oncologist says they cannot help me anymore, quoting his own words; "We can only slow down the process". To me and my family, that is not good enough. I am determined to fight it with a holistic approach; good nutrition, rest and peace of mind.
I appeal to you all to help me with your generosity, until I am well enough to get back to my career and support my family as I once used to. God bless you all!"
Alla