Olga Kolesnik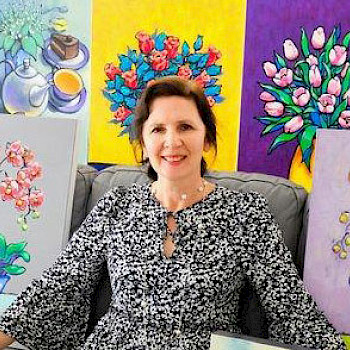 Olga is an artist from Sydney. She began to draw and paint when she was a child. Later, she worked in science and sales & marketing but never stopped being interested in art. When she picked up her brushes again, Olga felt like she never ceased to paint. She exhibits and sells her works through Art Gallery Kurnell, online art galleries and shows around Sydney and Melbourne.
Olga works in both, abstract and representational styles. Her paintings are influenced by such artists as Klimt and Van Gogh, Gauguin and Peploe, Matisse and Derain, Delaunay and Metzinger, N.Goncharova and Lentulov, Kandinsky and Margaret Preston.

Her still life artworks, animal portraits and abstracts are painted with bold and vibrant hues enjoyed by Impressionists and Fauvists.
"I would call myself an Australian Colourist, an artist who likes to paint with powerful strong colours. I don't see the world through dark tinted sunglasses. I would rather exaggerate a colour, than to imitate greyed muted colour and use the colour that works, than the colour that's 'really there'. My works explore communication between bold, vibrant, energetic colours and human emotions. I believe that our relationship with colours works both ways. They influence our feelings and, the other way around, our mood or personality dictates what colours we dislike, love or choose."

As a self-taught artist her approach is to learn something new every day and keep exploring painting media & techniques. She enjoys painting with acrylics, watercolours and in mix media.
Olga loves Australian birds and flowers. Australiana Series is a big part of her portfolio. Cockatoos, lorikeets and other birds who live on her backyard are basically her visiting pets and part of the family.
Her paintings live happily in homes of her friends and clients in Germany, Singapore, Japan, Russia, Australia, New Zealand, England, the US and many other countries.